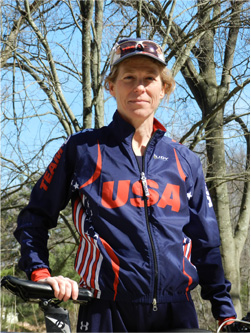 The Wheat Foods Council is proud to be sponsoring Michele Tuttle, MPH, RD, as she continues competing as a world-class triathlete in 2018.
Check back often to hear about Michele and her quest where we will highlight her diet (lots of wheat foods and carbs) and training regimen and check out her day to day training through her Twitter account.
Bio
As an athlete, Michele has spent most of her life in and around water. She began swimming competitively at 13, qualifying twice for YMCA Nationals in 1980 and 1981, and was a 4-year varsity swimmer and team captain for Tufts University Swimming & Diving Team. Michele continued training and racing as a master's swimmer throughout her 20's and 30's, and became a triathlete in her mid-40's. She has competed at USAT Nationals (Sprint & Olympic distances) and qualified for the 2013, 2015 & 2016 World ITU Triathlon Championships. She holds a silver (Cozumel 2016) and a bronze medal (London, 2013) in the sprint distance and has placed in the top 10 in the Olympic distance (London, 2013, Chicago, 2015). She's been a USAT All-American triathlete since 2012. In 2008, she began coaching other aspiring triathletes on the technical aspects of completing and excelling at open water swimming. She's currently certified as a USAT Level I Triathlon Coach and also holds certification as a US Masters Swimming Coach, Levels 1 & 2 and coaches triathletes in short, mid- and long distance events. In addition, she offers community seminars on nutrition as well as nutrition counseling for athletes.
Michele has been a registered dietitian since 1990 based in the greater Washington DC area. She's worked in a variety of settings over the past 26 years including an obesity treatment center at Duke University, a diabetes clinic at the University of North Carolina, and the health education department of Kaiser Permanente in Maryland. Prior to starting her consulting business in 1996, she was the director of consumer affairs at the Food Marketing Institute in Washington, DC where she developed nutrition education materials and programs used by grocery stores and health professionals nationwide. She continues to monitor and analyze nutrition education programs in supermarket settings.