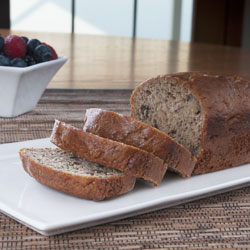 Ingredient List: 
2 cups white whole wheat flour
¾ teaspoon baking soda
½ teaspoon salt
¾ cup sugar
2 Tablespoons butter, softened
1 ½ Tablespoons olive oil
2 large eggs
1 ½ cup mashed bananas (about 5 medium bananas).  Extra-ripe bananas or previously frozen bananas can be used for a more intense banana flavor.
1/3 cup plain, non-fat yogurt
1 teaspoon vanilla extract
Non-stick cooking spray
Directions:
Combine flour, baking soda and salt in a medium-sized bowl.
Put sugar, butter and olive oil into a large bowl and beat with an electric mixture until well blended.  Add eggs one at a time beating well after each addition. Add mashed bananas and yogurt then beat until well blended.  Add flour mixture and beat at low speed just until blended.
Pour batter into a 9 x 4 x 4-inch loaf pan, which has been generously greased (oil or non-stick cooking spray can be used) and floured to prevent sticking.
Bake at 350°F for 60 to 65 minutes or until toothpick inserted into the center comes out clean. Let stand in pan about 5 minutes. Remove from pan and cool completely on wire cooling rack.
Servings:  1 loaf – about 12 slices
Calories/Serving:  200
Nutrition:  Each serving provides approximately: 200 calories, 5 g protein, 35 g carbohydrates, 3 g fiber, 5 g fat (2 g saturated), 35 mg cholesterol, 10 mcg folate (DFE), 1 mg iron, 210 mg sodium.
Nutrition:  (includes chocolate chips): Each serving provides approximately: 282 calories, 4 g protein, 45 g carbohydrates, 1 g fiber, 10 g fat (3 g saturated), 39 mg cholesterol, 40 mcg folate, 1 mg iron, 190 mg sodium.
Source:  Wheat Foods Council