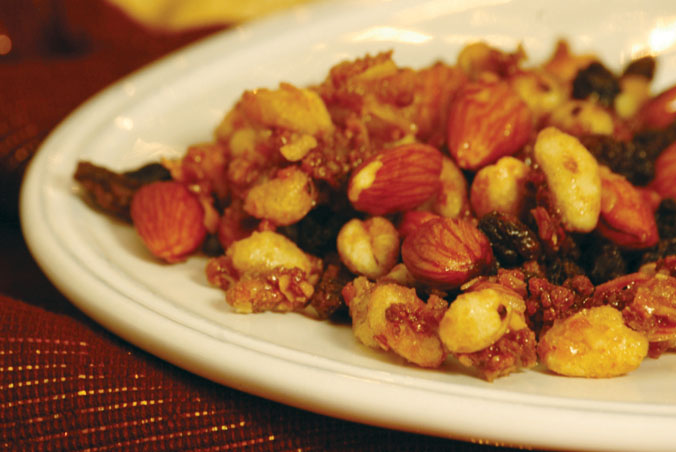 Ingredients
2 ½ cups Puffed Wheat Cereal
2 cups     Grape Nuts Cereal
1 ½ cups Raw (untoasted) whole Almonds
1 cup       Unsweetened shredded Coconut
1 cup       raw Pepitas (pumpkin seeds)
⅔ cup      Honey
2 tbsp.      Extra-virgin Olive oil
⅓ cup      Dark Brown Sugar
1 ½ tsp.   Kosher salt
Directions
Heat oven to 300 degrees.
Mix all ingredients together and spread out on two baking sheets lined with parchment paper.
Bake until golden brown all over, about 45 to 60 minutes. Stir the trail mix as it bakes at least 2 or 3 times, making sure to stir around the edges.
Break it into bite-sized pieces.
Cool completely before storing in airtight containers.
Nutrition
Serving size: 1/2 cup
Servings: 16
Amount per serving
Calories 249
% Daily Value*
Total Fat 12.4g 16%, Saturated Fat 4.3g 21%, Cholesterol 0mg 0%, Sodium 289mg 13%, Carbohydrate 32.1g 12%, Dietary Fiber 4.5g 16%, Total Sugars 16.7g, Protein 5g, Vitamin D 0mcg 0%, Calcium 38mg 3%, Iron 6mg 32%, Potassium 78mg 2%
*The % Daily Value (DV) tells you how much a nutrient in a food serving contributes to a daily diet. 2,000 calorie a day is used for general nutrition advice.