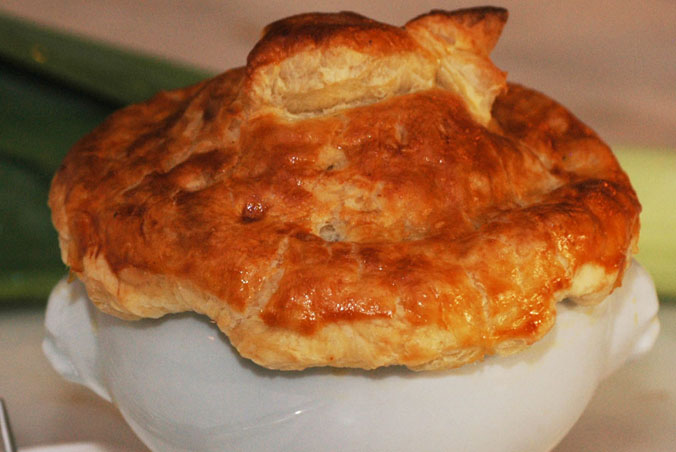 Ingredients
2 7 oz. trout fillets
2 tablespoons of white wine (optional)
1 ¾ cups Whole milk
1 ¼ cups Chicken stock
1 heaping tbsp of Crème Fraîche (or sour cream)
2.5 tbsp. of All-Purpose Flour
Tabasco
English mustard or mustard powder
2 tbsp. butter
1 12 oz. package of Frozen peas
1 leek, cleaned & sliced into rings
1 Cup baby potatoes, halved or quartered (the pieces should be no bigger than the size of a grape)
Fresh parsley
1 Package of Puff Pastry sheets
1 egg, beaten, for brushing
Salt & black pepper
 
Directions
Preheat your oven to 425F.
Melt the butter in a saucepan over a medium heat and add the leeks and the baby potatoes. Once they're turning slightly golden, add the flour and stir well. Add a small pinch of salt & black pepper and the English mustard or mustard powder. Add the wine, if using, and allow to simmer off. Add the milk, whisking it in well with each pour to allow it to fully incorporate into the flour mixture. Add the Crème Fraiche or sour cream and a generous dash of Tabasco.
Whisk lightly until smooth, cook for five minutes over a medium heat. When smooth, start stirring in the stock. This method should create a rich, glossy sauce. If sauce is thin, add another scant tablespoon of flour and continue to cook for a few minutes, stirring constantly. If too thick, stir in some more stock or milk. Taste it to check for seasoning.
Cut the skin off the trout fillets using a sharp knife and discard. Chop the fillets into cubes and divide between four small ovenproof dishes (or one larger dish if you don't have four). Sprinkle with parsley and some black pepper. Spoon over the sauce and stir the ingredients in the dishes gently to incorporate the sauce reasonably evenly; the dishes should be almost completely full.
Top the dishes with a piece of puff pastry, so that it runs all the way out to the furthest edges on each side. Trim off any overhang with a sharp knife. Two sheets of pastry should adequately cover both pot pies. Cut a few darts into the top of each pie to allow steam to escape. Push the pastry down slightly so that it's just touching the sauce mixture.
If you'd like, make a trout shaped decoration for each pie by cutting out a basic fish shape from any remaining scraps, re-rolled out. Press lightly onto the pies. Brush the pastry liberally with the beaten egg, then bake for around 25-30 minutes, or until the pies are deeply golden and well risen. Serve with braised cabbage or mashed or boiled potatoes if desired.
Nutrition
Servings: 4
Amount per serving
Calories 371
% Daily Value*
Total Fat 21.1g 27%, Saturated Fat 10.8g 54%, Cholesterol 96mg 32%, Sodium 458mg 20%, Total Carbohydrate 27.5g 10%, Dietary Fiber 2.6g 9%, Total Sugars 8.7g , Protein 17.4g , Vitamin D 51mcg 253%, Calcium 191mg 15%, Iron 3mg 15%, Potassium 477mg 10%
*The % Daily Value (DV) tells you how much a nutrient in a food serving contributes to a daily diet. 2,000 calorie a day is used for general nutrition advice.