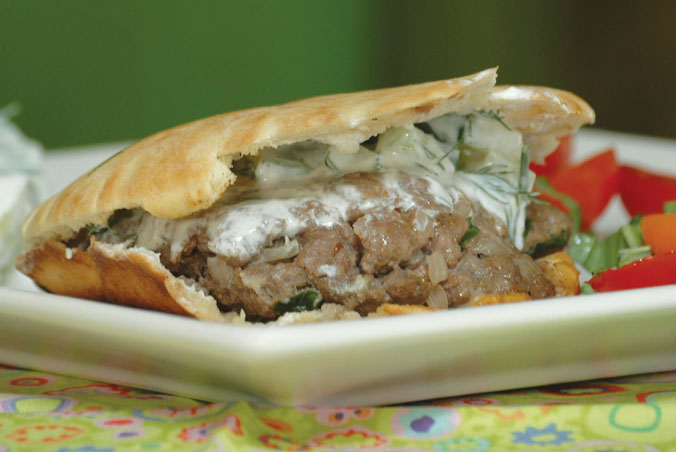 Ingredients
For the Beef Patties:
1 pounds ground beef
1 medium Vidalia onion, very finely chopped
¾ cup chopped fresh flat-leaf parsley
1 tablespoon ground coriander
2 teaspoons ground cumin
½ teaspoon ground cinnamon
1 tablespoon kosher salt
1½ teaspoon freshly ground black pepper
1/8 cup olive oil, plus more for grilling
4 – 6 inch pita breads with pockets
For the Cucumber Sour Cream Sauce:
1/2 English Cucumber, unpeeled, cut into 4 wedges lengthwise and then into ¼ inch pieces.
4 tbsp. Fresh Dill, chopped
1 tsp. Salt
8 oz. Sour Cream
Directions
Using a fork, mix lamb, onion, parsley, coriander, cumin, cinnamon, salt, pepper, and ¼ cup oil in a large bowl. Cover and chill at least 1 hour.
Make the Cucumber Sour Cream sauce. In a large bowl, combine the cut up cucumber, sour cream and salt. Stir in the chopped dill. Set aside
Prepare grill for medium heat and oil grate. Working one at a time, open each pita pocket by cutting along seam, halfway around perimeter. Spoon filling into pitas, spreading to edges. Close, pressing on filling to seal.
Grill pitas until filling is cooked through and bread is crisp, about 5 minutes per side.
Carefully open the cut side of pita, spoon in the cucumber sour cream sauce, serve.
DO AHEAD: Filling can be made 8 hours ahead. Keep chilled. Pita breads can be stuffed 1 hour ahead. Cover and chill.
Nutrition
Servings: 4
Amount per serving
Calories 476
% Daily Value*
Total Fat 15.7g 20%, Saturated Fat 3.9g 20%, Cholesterol 101mg 34%, Sodium 3049mg 133%, Total Carbohydrate 44.2g 16%, Dietary Fiber 7.4g 26%, Total Sugars 2.5g , Protein 42.7g , Vitamin D 0mcg 0%
Calcium 121mg 9%, Iron 27mg 151%, Potassium 884mg 19%
*The % Daily Value (DV) tells you how much a nutrient in a food serving contributes to a daily diet. 2,000 calorie a day is used for general nutrition advice.