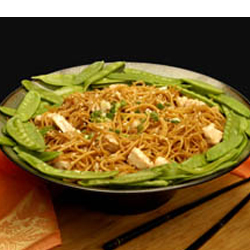 Ingredient List: 
8 ounces whole wheat linguine
3 cloves minced garlic
1 tablespoon red wine vinegar
1 tablespoon packed brown sugar
6 tablespoons chunky peanut butter
¼ cup soy sauce, light
6 tablespoons sesame oil
2 tablespoons hot Chili oil
2 cooked chicken breast halves, boneless
4 tablespoons sesame seeds
1 pound pea pods, trimmed
3 scallions, white bulbs and 3 inches green tops, sliced
Directions: 
Cook linguine according to package directions; drain, rinse under cold water and set
aside in large mixing bowl.
Put garlic, vinegar, brown sugar, peanut butter and soy sauce in food processor; chop for
1 minute. With the processor still on, slowly add the sesame and hot chili oils through the
feed tube and process until well blended.
Cut chicken into bite-sized pieces and toss with linguine. Add sauce and half the sesame
seeds and toss to coat.
Blanch pea pods in saucepan of boiling water for 30 seconds; drain, rinse under cold
water and pat dry.
Place linguine-chicken mixture in large flat serving bowl and arrange pea pods on top.
Sprinkle with scallions and remaining sesame seeds. Serve at room temperature.
Servings: 6
Calories/Serving: 530
Nutrition: One serving provides approximately: 25 g protein, 42 g carbohydrates,
8 g fiber, 31 g fat (4 g saturated), 30 mg cholesterol, 60 mcg folate, 4 g iron
and 410 mg sodium.
Source: Wheat Foods Council