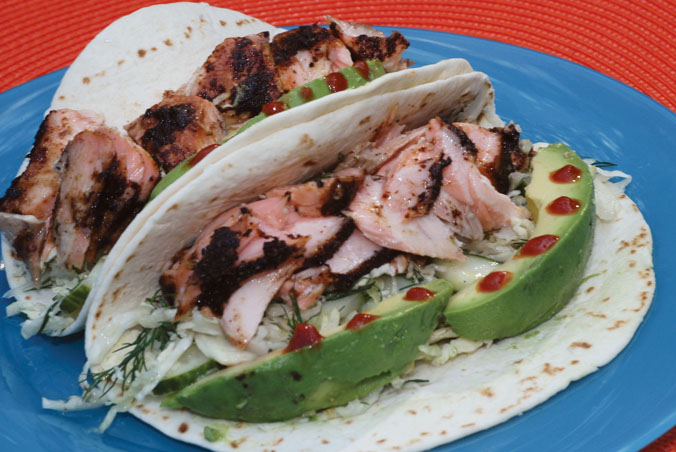 Ingredients
2 cups green cabbage, cored and finely shredded
1 English cucumber, unpeeled, quartered lengthwise, diced
1/4 cup White wine vinegar
3 tablespoons coarsely chopped fresh dill
Kosher salt and freshly ground black pepper
Olive oil, for coating the pan
1 3/4 pounds center-cut fresh salmon fillet, skin removed
2 teaspoons chipotle chili powder
1 teaspoon grated lime zest
3 tablespoons freshly squeezed lime juice, divided
12 (6-inch) flour tortillas
2 ripe Hass avocados, seeded and peeled, sliced at the last minute.
3/4 tsp Sriracha to garnish the Avocado
Directions
One hour or more before serving toss the cabbage, cucumber, vinegar, dill, 1 tsp. salt and 1/2 tsp. black pepper together in a large bowl. Cover and refrigerate while the cabbage mixture marinates.
Pre-heat the oven to 425 degrees F. Brush a baking dish with olive oil and place the salmon in it. Mix the chili powder, lime zest and 1 1/2 teaspoons salt in a small bowl. Brush the salmon with 1 tablespoon of the lime juice and sprinkle with the chipotle seasoning mixture. Roast for 12 to 15 minutes, depending on the thickness of the fish, until the salmon is just cooked through.
Wrap the tortillas in foil and place them in the oven with the salmon. Slice the avocados and sprinkle them with the rest of the lime juice, 1 teaspoon salt and 1/4 teaspoon black pepper.
To serve, lay 2 warm tortillas on each of 6 plates. Mound the cabbage and cucumber mixture on one side of each tortilla, then some large chunks of salmon, Garnish with slices of avocado, dotted with Siracha or other hot sauce. Fold the tortillas in half over the filling and serve warm. And don't be surprised if they're not exactly finger food. Be sure to serve them on dinner plates.
Nutrition
One serving provides approximately: 465 calories, 30.8 g protein, 34.5 g carbohydrates, 6.8 g fiber, 23.8 g fat (3.5 g saturated), 58 mg cholesterol, 3 mg iron, 517 mg sodium.