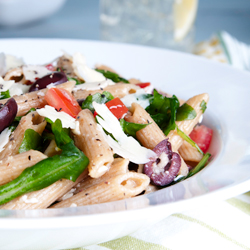 Ingredient List: 
2¼ cups chopped plum tomatoes
¼ cup chopped pitted Kalamata olives
1½ tablespoons olive oil
¼ teaspoon salt
¼ teaspoon ground black pepper
2 garlic cloves, minced
6 cups hot cooked whole-wheat fusilli or penne pasta
3 cups baby arugula
2 ounces shaved fresh pecorino Romano cheese
Directions:
Combine first 6 ingredients in a large bowl.  Add hot pasta and arugula.  Toss gently.  Divide pasta mixture among 4 bowls, and sprinkle with cheese.
Servings:  4
*Time Saver Tip:  Cook the whole box of pasta according to package directions.  Freeze the leftovers in a freezer bag, reheat for later use.
Calories/Serving 386
Nutrition:  One serving provides approximately:  14 g Protein, 45 g Carbohydrates, 6 g Fiber, 16 g Fat  (3.5 g saturated), 15 mg Cholesterol, 25 mcg Folate, 2 mg Iron, 587 mg Sodium