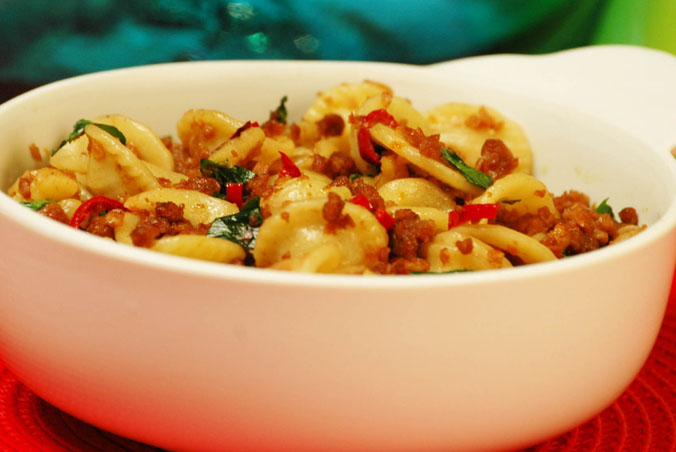 Ingredients
1-13.7 oz. Package of Gardein Beefless Ground
4 oz. Walnuts
1/4 cup Extra-virgin olive oil
2 large garlic cloves, minced
1 Large orange, zested with micro plane
2 tbsp. seeded and chopped Thai or another red chili
1 tbsp. Red Crushed Pepper (or to taste)
Salt
1/4 cup chopped flat-leaf parsley
1-12 oz pkg. Orecchiette
Directions
Preheat toaster oven or regular oven to 350°. Spread the walnuts in a pie plate and toast for about 3 minutes, until fragrant. Be very careful as they burn easily if not watched. Let cool, then chop.
In a non-stick skillet, over medium heat, sauté Gardein Beefless Ground over medium heat until browned and heated through, about 4 to 5 minutes. Set aside.
In a large skillet, heat the oil. Add the garlic, orange zest, chilis and toasted walnuts and cook over low heat until fragrant, 2 minutes. Add cooked GardeinTM Beefless Ground. Season with salt and stir in the parsley. Add the Red Crushed pepper, tasting as you go along.  Set aside.
In a pot of boiling salted water, cook the orecchiette per package instructions. Reserve 1/2 cup of the cooking water and drain the pasta. Add the orecchiette and reserved water to the first skillet and simmer until the liquid is just absorbed, 2 minutes. Toss the pasta. Transfer it to individual bowls and sprinkle with the cheese. Serve.
Nutrition
Servings: 6
Amount per serving
Calories 503
% Daily Value*
Total Fat 22.5g 29%, Saturated Fat 1.8g 9%, Cholesterol 0mg 0%, Sodium 291mg 13%, Total Carbohydrate 54.1g 20%, Dietary Fiber 7.8g 28%, Total Sugars 6.4g, Protein 26g, Vitamin D 0mcg 0%, Calcium 103mg 8%, Iron 5mg 26%, Potassium 614mg 13%
*The % Daily Value (DV) tells you how much a nutrient in a food serving contributes to a daily diet. 2,000 calorie a day is used for general nutrition advice.