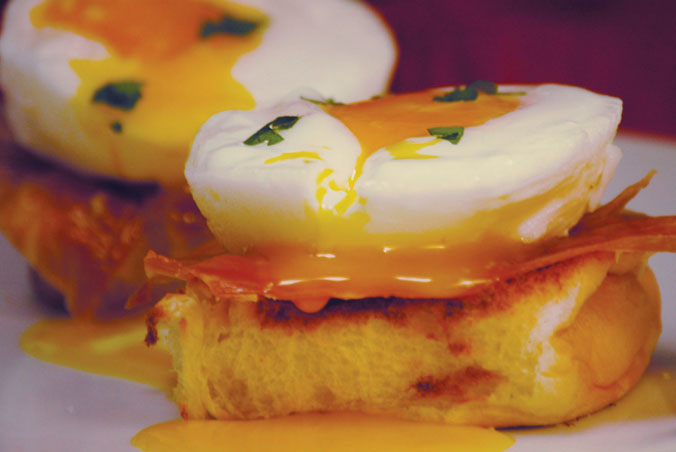 Ingredients
1 dozen large eggs
Kosher salt
Pepper
6 slices of Prosciutto di Parma (Or substitute thin-sliced Deli Ham)
1 cup mixed chopped herbs, such as parsley, tarragon and chives
1 tablespoon fresh lemon juice
6 slider buns, split and lightly toasted
Directions
Preheat the oven to 350°.
Pour 1 scant tablespoon of water into each cup of a 12-cup muffin tin.
Crack an egg into each cup and season with salt and pepper.
Bake the eggs for 13 to 15 minutes, until the whites are just firm, and the yolks are still runny.
Using a slotted spoon, immediately transfer the eggs to a plate.
Meanwhile, in a medium skillet, cook the ham over moderate heat, turning, until hot, about 2 minutes. In a small bowl, toss the herbs with the lemon
Arrange the split buns cut side up on a platter. Top with the ham, eggs and herbs. Serve open-faced.
Nutrition
Servings: 6
Amount per serving
Calories 371
% Daily Value*
Total Fat 16.4g 21%, Saturated Fat 6.9g 35%, Cholesterol 468mg 156%, Sodium 442mg 19%, Total Carbohydrate 38.1g 14%, Dietary Fiber 2g 7%, Total Sugars 14.1g, Protein 21g, Vitamin D 0mcg 0%, Calcium 60mg 5%, Iron 3mg 16%, Potassium 3mg 0%
*The % Daily Value (DV) tells you how much a nutrient in a food serving contributes to a daily diet. 2,000 calorie a day is used for general nutrition advice.