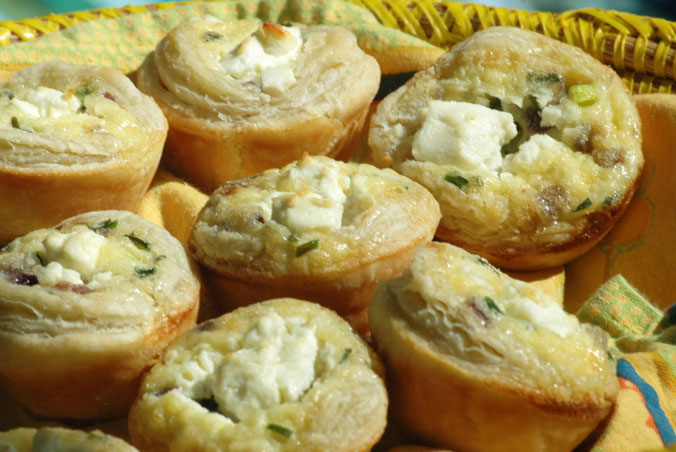 Ingredients
2 frozen puff pastry sheets, defrosted
1 tablespoon butter
1 tablespoon olive oil
1 finely diced small red onion
2 scallions, finely sliced. white and green parts
1 tablespoon finely chopped chives
1 large egg
1/3 cup heavy cream
Directions
Preheat oven to 375 degrees F.
Take a 2 1/2-inch round cookie cutter and cut out 12 rounds from 2 sheets of puff pastry. Take a 12-hole mini muffin pan and place rounds of dough into each hole, pressing gently to form a cup and giving room for the filling. Cover with plastic wrap and keep the prepared pan in the refrigerator or freezer (depends how long until you need it).
In a skillet add butter and oil. Throw in the onions and cook gently until softened and caramelized, stirring frequently for about 15 to 20 minutes. Once cooked add the scallions and chives. Set aside to cool slightly.
In a bowl whisk together the egg, cream, and salt. Add the cooked onions to the custard, stirring thoroughly. Pour into the prepared pastry cups with a spoon. Break up the goat cheese and place on top of tarts. Bake for 20 to 25 minutes. Serve.
Nutrition
Servings: 12
Amount per serving
Calories 185
% Daily Value*
Total Fat 14.2g 18%, Saturated Fat 4.5g 23%, Cholesterol 30mg 10%, Sodium 285mg 12%, Total Carbohydrate 10.3g 4%, Dietary Fiber 0.5g 2%, Total Sugars 0.6g, Protein 4.4g, Vitamin D 4mcg 19%, Calcium 74mg 6%, Iron 1mg 4%, Potassium 41mg 1%
*The % Daily Value (DV) tells you how much a nutrient in a food serving contributes to a daily diet. 2,000 calorie a day is used for general nutrition advice.