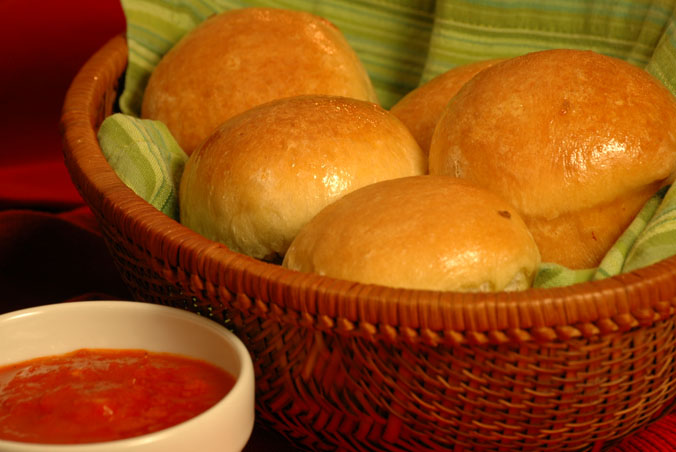 Ingredients
2 loaves refrigerated bread dough
2 pounds ground beef
1 can (8 ounces) mushroom stems and pieces, drained
1-1/4 cups shredded cheddar cheese
1-1/2 teaspoons Italian seasoning
1 clove garlic, minced
1/2 teaspoon salt
1/4 teaspoon pepper
Homemade or Store Bough Marinara Sauce, warmed
Directions
Preheat oven to 350°. Meanwhile, in a Dutch oven, cook beef over medium heat until no longer pink, breaking into crumbles, 12-15 minutes; drain. Stir in mushrooms, cheese and seasonings.
Divide each loaf into 10 portions; roll each into a 4-in. circle. Top with 1/4 cup filling; bring edges of dough up over filling and pinch to seal.
Place meat pies in greased muffin cups, seam side down. Bake until golden brown, 20-25 minutes. Serve with warm Marinara sauce for dipping.
Note: Cooled, put beef pies in a freezer container. To use, reheat beef pies on greased baking sheets in a preheated 350° oven until heated through.
Nutrition
Servings: 20
Amount per serving
Calories 215
% Daily Value*
Total Fat 6.6g 8%, Saturated Fat 2.8g 14%, Cholesterol 47mg 16%, Sodium 443mg 19%, Total Carbohydrate 19.7g 7%, Dietary Fiber 1.5g 6%, Total Sugars 4.5g , Protein 18.6g , Vitamin D 42mcg 208%, Calcium 49mg 4%, Iron 10mg 56%, Potassium 334mg 7%
*The % Daily Value (DV) tells you how much a nutrient in a food serving contributes to a daily diet. 2,000 calorie a day is used for general nutrition advice.