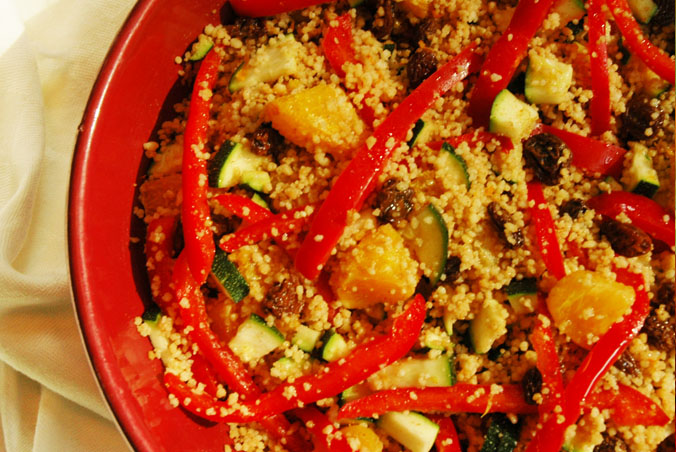 Ingredients
1 cup instant couscous
1 cup water
1 tsp salt plus salt and pepper to taste
½ cup parsley, fresh
2 tsp cumin
1 tsp ginger powder
1 tsp paprika powder
1 medium zucchini
1 bell pepper, red
1 orange
½ orange's zest
¼ cup raisins
2 tbsp olive oil
Directions
Boil the water and add it to couscous in a large serving bowl.
Cover the couscous with a tea towel or lid and leave for 5 minutes.
Take a fork and gently loosen up the couscous and add the cumin, ginger, olive oil and paprika powder. You want it nice and dry, no big clumps.
Wash the orange and grate the zest.
Peel and chop the orange and add it to the salad, along with the zest. Chop the zucchini finely and slice the red pepper thinly. Add both to the salad.
Wash and chop the parsley and any other optional herbs, again add them to the salad. Spoon Olive Oil over the top of the couscous mixture. Toss and serve.
Nutrition
Servings: 4
Amount per serving
Calories 185
% Daily Value*
Total Fat 8.1g 10%, Saturated Fat 1.1g 5%, Cholesterol 0mg 0%, Sodium 54mg 2%, Total Carbohydrate 28.3g 10%, Dietary Fiber 4g 14%, Total Sugars 13.2g, Protein 4g, Vitamin D 0mcg 0%, Calcium 57mg 4%, Iron 2mg 12%, Potassium 431mg 9%
*The % Daily Value (DV) tells you how much a nutrient in a food serving contributes to a daily diet. 2,000 calorie a day is used for general nutrition advice.