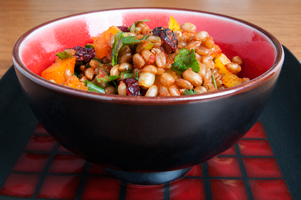 Ingredient List:
1 cup wheat berries, dry
3 ¼ cups water, boiling
2-3 Tablespoons lemon juice, fresh or bottled
½ Tablespoon ground coriander
½ Tablespoon ground cumin
1 teaspoon paprika
½ teaspoon salt
ground black pepper to taste
1 small yellow pepper, seeded and chopped
1 small orange pepper, seeded and chopped
1 small bunch (about 5) green onions, thinly sliced, include white bulbs and green tops
½ cup sweetened dried cranberries
½ cup fresh cilantro, lightly chopped
Directions:
Place wheat berries in your rice cooker and pour boiling water over it.  Stir; allow it to soak for 30 minutes.
After 30 minutes, turn on rice cooker.  Wheat berries should be done when rice cooker turns off.
Toss the cooked wheat berries with lemon juice.  Add coriander, cumin, paprika, salt and pepper and stir to coat evenly.  Add the chopped peppers, green onions, dried cranberries and cilantro and stir to combine.
This salad is excellent served chilled or at room temperature.  It will keep for several days in the fridge.
Servings: 6
Calories/Serving: 150
Nutrition: One serving provides approximately: 150 calories, 5 g protein, 32 g carbohydrates, 5 g fiber, 1 g fat (0 g saturated), 0 mg cholesterol, 21 mcg folate (DFE), 1.5 mg iron, 200 mg sodium.
Source:  Wheat Foods Council