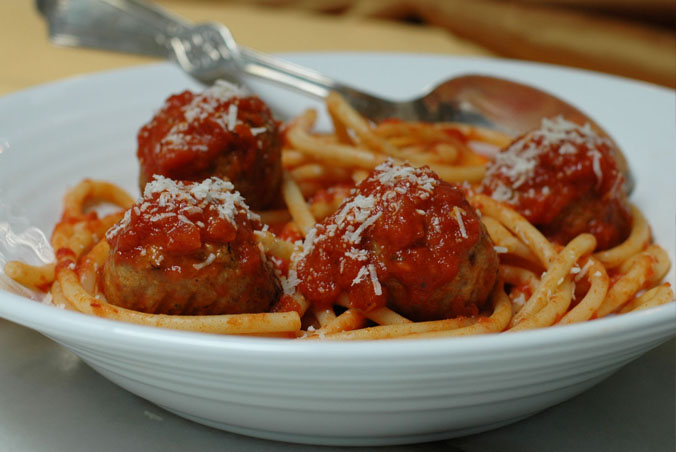 Ingredients
1-24 Oz Jar of Store-Bought Marinara Sauce
8 ounces spaghetti (not thin spaghetti), broken in half
2 tablespoons grated Parmesan, plus more for serving
1 cup ricotta (optional)
For the meatballs:
1-pound ground beef
¼ cup panko breadcrumbs
¼ cup grated Parmesan
2 tablespoons chopped basil
1 large egg
1 teaspoon kosher salt
1 to 2 garlic cloves, finely grated or minced
Directions
Make the meatballs: In a large bowl, mix together beef, breadcrumbs, Parmesan, chopped basil, egg, salt and garlic. Roll into 1 1/4-inch balls.
Turn the Instant Pot on in Sauté function. Pour ½ the Marinara Sauce into the Instant Pot. Heat for 5 minutes. Scatter uncooked spaghetti over the sauce. (Try to keep the spaghetti on top of the sauce), then top with meatballs.
Cover and cook on high pressure for 5 minutes. Manually release the pressure, then remove the cover and stir to separate the spaghetti. Stir in 2 tablespoons Parmesan. At this point, the pasta will be almost but not quite cooked through. Place the top back on the pressure cooker (loosely) and let it sit for 3 to 10 minutes, until the sauce has thickened, and spaghetti is al dente but not mushy.
Serve dolloped with ricotta, if using, and sprinkled with thinly sliced basil and more Parmesan if you like.
Nutrition
Servings: 4
Amount per serving
Calories 771
% Daily Value*
Total Fat 36.7g 47%, Saturated Fat 10.4g 52%, Cholesterol 228mg 76%, Sodium 1230mg 53%, Total Carbohydrate 51.1g 19%, Dietary Fiber 4g 14%, Total Sugars 7.7g , Protein 63.1g , Vitamin D 4mcg 22%, Calcium 453mg 35%, Iron 24mg 134%, Potassium 677mg 14%
*The % Daily Value (DV) tells you how much a nutrient in a food serving contributes to a daily diet. 2,000 calorie a day is used for general nutrition advice.