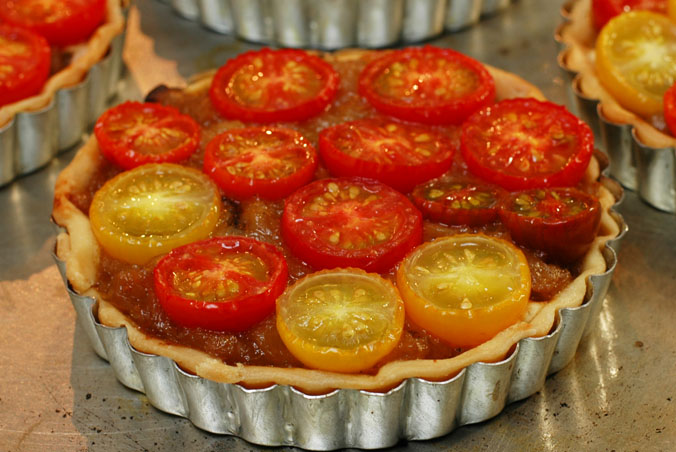 Ingredients
2 Store-Bought Pie Crusts
2 Vidalia Onions
2 tbsp. Extra Virgin Olive oil,
4 tbsp. Unsalted Butter
5.2 Oz. Garlic and Fine Herbs Boursin TM Cheese
1 Pint Cherry or Grape Tomatoes, halved.
Arugula
Directions
Preheat the oven to 350 F.
Cut the onion into rings. Heat about two tablespoons of olive oil in small Dutch oven or saucepan. Cook the onions for about 10 minutes, then turn the heat down, add the butter and cook for about an hour until they resemble a golden marmalade.
Spray tart pans with Baking Spray and then fill them with pastry. "Blind Bake" the tart shells by covering the pastry with parchment paper then filling the tart shell with either ceramic beans or any raw dried beans. Bake for 20 minutes. Remove beans and paper and return the pastry to the oven for 5 to 10 minute until very lightly blond colored.
Spoon the onions onto the bottom of the tart shell. Crumble the cheese over that. Arrange the cherry tomatoes on top. Bake 400'F for approximately 20 minutes. Toss the arugula two tablespoons of olive oil. Spread over the top of the tart. Serve warm. Serves four.
Nutrition
Servings: 4
Amount per serving
Calories 394
% Daily Value*
Total Fat 31.9g 41%, Saturated Fat 11.8g 59%, Cholesterol 38mg 13%, Sodium 334mg 15%, Total Carbohydrate 25.9g 9%, Dietary, Fiber 2.2g 8%, Total Sugars 5.6gmg, Protein 3.1g , Vitamin D 8mcg 40%, Calcium 36mg 3%, Iron 0mg 2%, Potassium 195mg 4%
*The % Daily Value (DV) tells you how much a nutrient in a food serving contributes to a daily diet. 2,000 calorie a day is used for general nutrition advice.