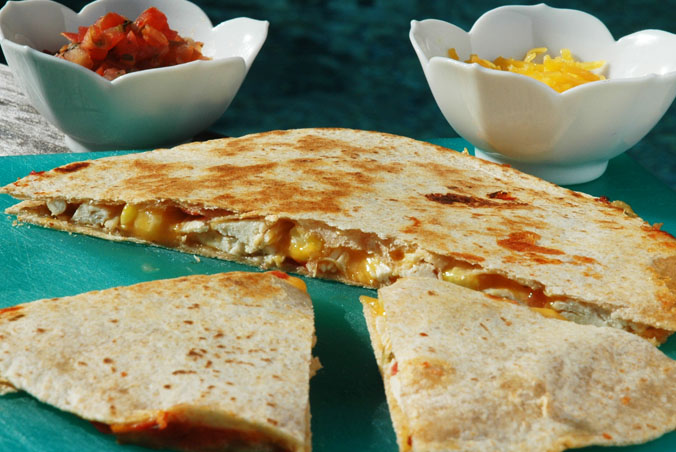 Ingredients
2-8-inch    Whole Wheat Flour Tortillas
¾ Cup.       Shredded Rotisserie Chicken
2-3 tbsp.    Jarred Salsa, Mild or Spicy, your choice
3-4 tbsp.    Shredded Cheddar or Mexican Blend Cheese (divided)
2-3 tbsp.    Frozen Corn Kernels (optional)
2                  Scallions, finely sliced, both white and Green parts
Directions
At lowest stove-top temperature, heat 10-12-inch non-stick skillet.
When heated, put 1 8-inch Whole Wheat Tortilla in pan.
Spread 2 tbsp. cheese all over the top of the tortilla. Spread shredded chicken on top of the cheese. Spoon salsa and corn (if using) over the shredded chicken. Spread 1 or 2 tbsp. shredded cheese over all ingredients.
Once cheese begins to melt, take 2nd flour tortilla and cover entire mixture.
With a spatula, press second tortilla down over the mixture. Use spatula to press down sides of the tortilla. Once tortilla sticks to the cheese mixture and sides, carefully remove from pan. Slice into 6 wedges. Serve.
Nutrition
Servings: 1
Amount per serving
Calories 543
% Daily Value*
Total Fat 15.1g 19%, Saturated Fat 7.1g 36%, Cholesterol 125mg 42%, Sodium 1527mg 66%, Total Carbohydrate 57.7g 21%, Dietary Fiber 7.3g 26%, Total Sugars 6.5g, Protein 45.3g, Vitamin D 0mcg 0%, Calcium 351mg 27%, Iron 4mg 20%, Potassium 152mg 3%
*The % Daily Value (DV) tells you how much a nutrient in a food serving contributes to a daily diet. 2,000 calorie a day is used for general nutrition advice.