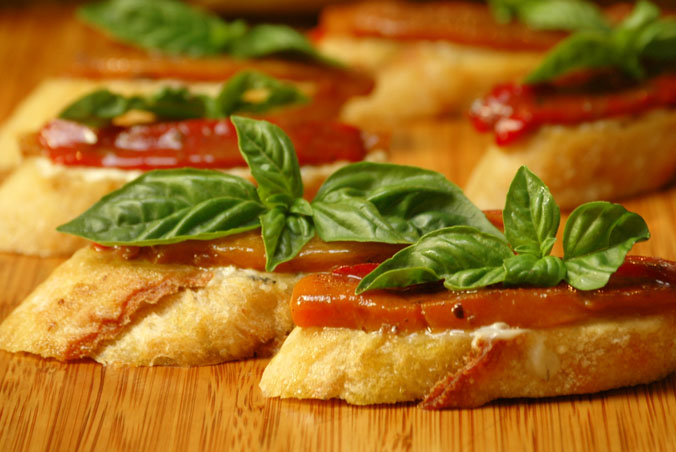 Ingredients
3 large bell peppers red, yellow and orange
4 Tbsp Extra Virgin Olive Oil
2 tsp balsamic vinegar
2 garlic cloves pressed or finely minced
1 tsp salt
1/2 tsp freshly ground
1 French baguette sliced into 25 slices
4 oz Goat Cheese of France at room temperature
Basil leaves or Parsley to garnish (optional)
Directions
Cut bell peppers in half lengthwise. Discard seeds and membranes. Place pepper halves cut sides down, on an aluminum foil-lined baking sheet, flattening peppers with the palm of your hand. Broil 10 minutes or until peppers are blackened. Remove pan from oven and wrap peppers in aluminum foil. Let stand 10 minutes. Peel.
Make the Marinated Bell Pepper Topping:
Remove stems and cut the bell pepper into quarters. Remove and discard peels and seeds. Slice peppers into 1/2" wide slices and transfer to a medium bowl.
Add 1 1/2 Tbsp olive oil, 2 tsp balsamic vinegar, 2 pressed garlic cloves, 1 tsp sea salt and 1/2 tsp black pepper. Stir to combine, cover and refrigerate 1 hour (or overnight) for the flavors to meld.
Toast and Assemble Bruschetta:
Brush both sides with olive oil and bake at 350˚F for 5 minutes, just until edges are crisp and centers are still soft. Remove from oven and cool to room temperature.
Spread a thin layer of goat cheese over the top of toasts then divide the marinated roasted peppers evenly between 25 toasts and garnish with fresh basil.
Nutrition
Servings: 25
Amount per serving
Calories 183
% Daily Value*
Total Fat 3.9g 5%, Saturated Fat 1.1g 6%, Cholesterol 2mg 1%, Sodium 433mg 19%, Total Carbohydrate 31.3g 11%, Dietary Fiber 1g 4%, Total Sugars 1.2g, Protein 5.8g, Vitamin D 0mcg 0%, Calcium 10mg 1%, Iron 0mg 0%, Potassium 2mg 0%
*The % Daily Value (DV) tells you how much a nutrient in a food serving contributes to a daily diet. 2,000 calorie a day is used for general nutrition advice.