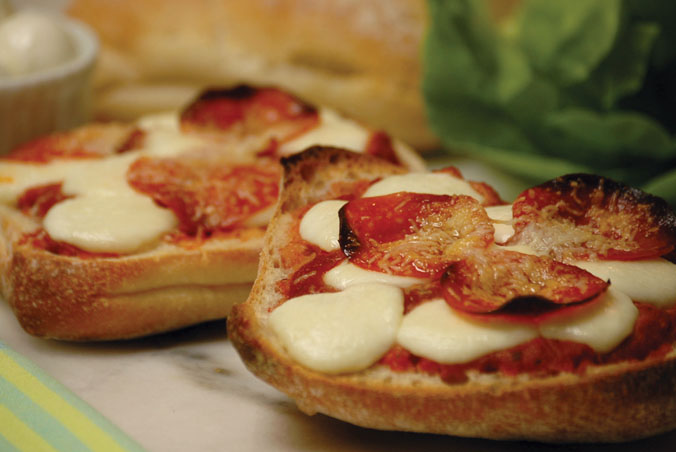 Ingredients
Ciabatta Rolls, sliced in half horizontally
4 tbsp. Jarred Pizza Sauce
10-1/3 oz. Fresh Mozzarella Ciliegine
5 slices Pepperoni
2 tbsp. Grated Parmesan Cheese
1 tbsp. Olive Oil
Directions
Pre-heat oven to 500F.
Spoon Pizza Sauce over cut sides of Ciabatta Roll
Halve mozzarella balls and place 10 halves over pizza sauce, top with pepperoni and parmesan.
Bake in oven 5 to 7 minutes.
Drizzle Olive Oil on top of finished dish.
Nutrition
Servings: 2
Amount per serving
Calories 400
% Daily Value*
Total Fat 28.2g 36%, Saturated Fat 12.2g 61%, Cholesterol 70mg 23%, Sodium 805mg 35%, Total Carbohydrate 10.2g 4%, Dietary, Fiber 0.5g 2%, Total Sugars 1g, Protein 26.4g, Vitamin D 1mcg 6%, Calcium 681mg 52%, Iron 0mg 2%, Potassium 98mg 2%
*The % Daily Value (DV) tells you how much a nutrient in a food serving contributes to a daily diet. 2,000 calorie a day is used for general nutrition advice.