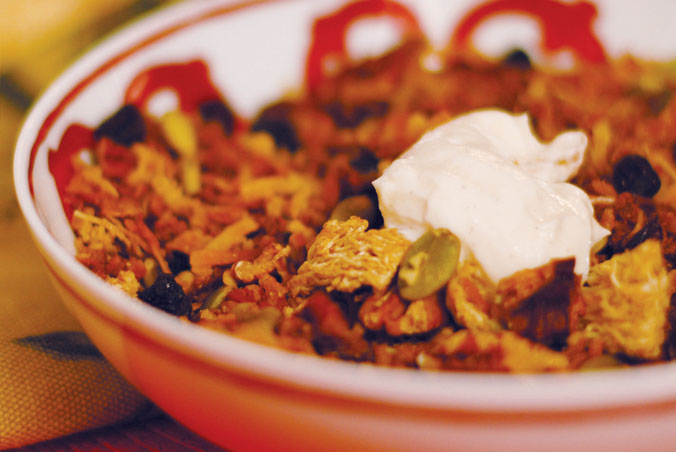 Ingredients
1 cup Grapenuts Cereal
2 cups Bite-Sized Shredded Wheat, crumbled
1 cup Pecan nut halves
1 cup Coconut Shavings
½ cup Pepitas (shelled pumpkin seeds)
3 tbsp. Brown Sugar
1/3 cup Maple Syrup
3 tbsp. Canola Oil
½ tsp. Kosher Salt
½ cup Dried blueberries (about 3 oz.)
Directions
Preheat oven to 300 degrees.
In a large bowl, mix Grapenuts, Shredded Wheat, pecans, coconut, and pepitas.
In a small saucepan over medium-low heat, mix syrup, brown sugar, oil and salt until mixture comes to a simmer. Remove from heat and pour over oat mixture. Stir to evenly coat.
Transfer to a rimmed baking sheet coated with non-stick spray.
Bake, stirring every 15 minutes, until golden, about 45 minutes.
Remove from oven. Add dried blueberries and stir.
Allow to cool on baking sheet. Put into a jar with a tight-fitting lid.
Nutrition
Servings: 12
Amount per serving
Calories 241
% Daily Value*
Total Fat 14g 18%, Saturated Fat 2.7g 14%, Cholesterol 0mg 0%, Sodium 193mg 8%, Total Carbohydrate 24.9g 9%, Dietary Fiber 3.9g 14%, Total Sugars 9.3g, Protein 6.7g, Vitamin D 0mcg 0%, Calcium 21mg 2%, Iron 3mg 19%, Potassium 160mg 3%
*The % Daily Value (DV) tells you how much a nutrient in a food serving contributes to a daily diet. 2,000 calorie a day is used for general nutrition advice.