May 25, 2017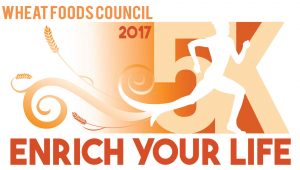 Join us for the Inaugural Enrich Your Life 5K & 1 Mile fun run, sponsored by the Wheat Foods Council (WFC), on Saturday, June 17, at this year's annual National Festival of Breads in Manhattan, KS.  The 5K Run will begin at 7:30 a.m. and the 1 Mile Fun Run at 8:15 a.m. at the Hilton Garden Inn, 410 South 3rd Street, in Manhattan.
Running for a Cause – The fee of the 5K is $20, and the 1 Mile Run is $15 now through June 4th. . From June 5th until race day, the fee is $25 for the 5K, and $20 for the 1 Mile Run.
Half of all the Enrich Your Life race proceeds will be donated to the Flint Hills Breadbasket.
Free Pasta Dinner – All runners and their families are invited to attend a free Pasta Dinner sponsored by North Dakota Wheat and North Dakota Mill from 6:30-8:00 pm on Friday night, June 16, before the race at the Hilton Garden Inn.
The Enrich Your Life 5K & 1 Mile run is being held
to raise awareness that:
Enriched Wheat Foods = Energy
Enriched Wheat Foods = Good Health
Enriched Wheat Foods = Great Taste
Save
Save
Save
Save
Save
Save
Save
Save
Save